Best Cooking Tools needed to create your favorite shrimp recipes!
Are you looking for the best cooking tools to create your favorite recipes? We have taken the guess work out of it for you and put together a selection of products that work well in preparing your favorite shrimp recipes.
All of these products are recommended by free-shrimp-recipes.com. We have carefully chosen products that will make cooking or entertaining easier for you!
These products range from simple grilling skewers and shrimp deveining tools to the best kitchen gadgets and skillets.
Our shopping service is powered by Cooking.com
which was founded in 1998 and services Rachael Ray, Food Network and others. It is a name you can trust for all of your kitchen gadgets and cooking utensil needs.
As you browse through the items a new window will open up to the Cooking.com
website where you will securely make your purchase.
Happy shopping!
________________________________________________________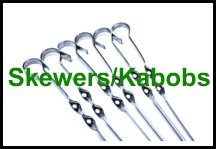 Featured Items