Cooking Shrimp... It's easier than you think!
Are you looking for information on cooking shrimp? If so, we can help. At free-shrimp-recipes.com we not only provide you with free shrimp recipes but we also provide you with plenty of information on how to cook shrimp.
We provide you with all the information on cooking shrimp so that the only thing left for you to do after browsing our website is prepare your shrimp recipe and enjoy!
So where do you start? Right here!
There are many ways to cook shrimp. You will see me say it over and over again but it's important to get the point across:
The single biggest tip for cooking shrimp is Do Not Over Cook It.
Whether you are charcoal grilling or gas grilling shrimp, broiling shrimp, pan frying it or deep frying shrimp, you do not want to cook it too long. Overcooking shrimp makes it tough and it loses flavor.
Top 10 Tips for Cooking Perfect Shrimp:
1. Don't over cook shrimp (hmmm, did I say that already?)
2. If your recipe calls for thawed shrimp, thaw shrimp in the refrigerator (Allow it to thaw overnight Approx. 15 –24 hours depending on quantity.) or thaw under cold running water (this usually takes about 30 minutes to 1 hour)
3. Never thaw at room temperature or under warm/hot water.
4. Never Refreeze thawed shrimp
5. Use fresh shrimp within 24 hours after purchasing. The sooner, the better. Shrimp is very perishable. Check with your seafood market to see if the shrimp is fresh or previously frozen. Most shrimp is previously frozen so you will not want to refreeze it. If you are wanting to freeze, just buy frozen shrimp to begin with (our recommendation anyway – see our How to Buy Shrimp page to find out why.)
6. Learn how to butterfly shrimp - click here
7. For grilling tips for gas grilling or charcoal grilled shrimp, check out our Grilling Shrimp Recipes page
8. For Broiling Shrimp, follow our instructions for deveining shrimp on our deveining shrimp page and then spread the shell open until it lies flat, rinse it under cold water. Season and prepare shrimp, then broil in oven for 4-5 minutes. It is a good idea to baste the shrimp during broiling period to help prevent burnt edges.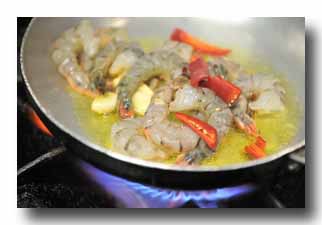 9. For pan frying shrimp (sautéing), be sure to thaw the shrimp first. If you don't, it will tend to spatter too much. Then, Heat 1/4 teaspoon olive oil in large skillet. Add shrimp and desired seasoning. (I recommend McCormick Bayou Cajun Seasoning. It's my favorite seasoning for shrimp) Cook 3 to 5 minutes; do not overcook. (Did I mention, do not overcook it :)
10. Have fun and be creative. Play with the recipe and make it your own
One thing I have learned along the way is that you do not have to follow cooking recipes 100% to get great results. (Baking may be another story) But for most of the recipes here you can play around and give them your own twist, if you dare!
More tips for cooking shrimp:

Cooking Frozen Shrimp
Easy Recipes
Grilling Tips / Grill Recipes
How To Videos
How To Buy Shrimp
How To Butterfly Shrimp
Or, if you haven't looked at our How To Buy Shrimp page, start there first. This page explains, obviously, how to buy shrimp!
Then, proceed to the Deveining Shrimp page for videos and tips on deveining shrimp.