Shrimp Pasta Recipes including Easy Shrimp Pasta, Shrimp Alfredo, Cajun and more
This page is all about Shrimp pasta recipes.
If you have not dared to create any recipes for shrimp pasta yet, no need to wait any longer! Our recipes range from easy to more complex. You are sure to find one you can't wait to try.
You can create a very simple dish yet your guests will rave about the taste.
Shrimp pasta can look very elegant when served, like you spent hours preparing it!
Too really simplify things that your guests and family won't even notice you can grab a jar of prepared alfredo sauce from your grocery store, heat up and combine with your favorite cooked pasta, toss in some cooked shrimp at the end long enough to just heat the shrimp through. Super fast and easy shrimp alfredo (and it taste great too)!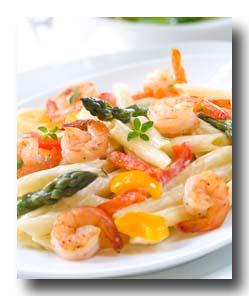 Here is a simple recipe you can start with:
Creamy Shrimp and Pasta
Ingredients:
1/4 lb linguini or ziti
1 cup medium shrimp, peeled and deveined
2 roma tomatoes (chopped)
1/2 cup cream cheese
1 1/2 cups fresh spinach leaves (torn into pcs) or 1 cup cooked asparagus
Cook pasta as directed, drain.
Remove tails from shrimp and discard tails.
Heat a large skillet on medium-high heat. Add shrimp, tomatoes and cream cheese.
Cook and stir 3-4 minutes or until well blended and shrimp is pink.
Place pasta in a large bowl. Add spinach or cooked asparagus, mix lightly with pasta. Stir in shrimp mixture.
Share your best Shrimp Pasta Recipe with our other Visitors
If you feel you have a great shrimp pasta recipe, please share it with the rest of us! Share the page with your friends so they and other visitors can try it and tell you what they think!
Recipes Submitted by Other Visitors
Click below to see recipes from other visitors to this page...

Syltonio's Seafood Delight

1 Box Penne Pasta (or your favorite pasta) 1 Lb Shrimp (Peeled and Devained) 4 Breaded Chicken Breasts (Pounded Flat) 1 Small can of Mushroom Stems …
____________________________________________
Creamy Cajun Shrimp Pasta
Alfredo Shrimp Pasta
Curried Shrimp with Angel Hair Pasta in Lemon Butter Sauce
Microwave Shrimp Scampi
Easy Shrimp Scampi
Another Easy Shrimp Scampi Recipe
Easy Italian Shrimp Scampi
Cajun Shrimp Scampi Pasta
Garlic Shrimp Scampi with White Wine
The Best Garlic Shrimp Pasta
Basic Garlic Shrimp Scampi
Garlic Shrimp Linguine
Garlic Shrimp Pasta with Shallots and White Wine
Click here to check out of all of our recipes similar to these shrimp pasta recipes
___________________________________________________

Cooking Shrimp Tips I How To Buy Shrimp I How To Butterfly Shrimp
How To Clean and Devein Shrimp I Video Recipes I Shrimp Sauces