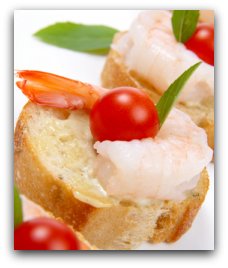 Party Appetizers
Here you will find quick easy shrimp appetizers for parties, appetizers finger food style, and all recipes we thought make great party appetizers. These are perfect for picnics, football parties, graduation parties, office parties, etc…
Shrimp Egg Rolls-1 lb. chinese cabbage (Napa)...2 stalks celery...1/2 lb cooked...
Shrimp Chicken Egg Roll Appetizers Saute chicken, shrimp and onion in hot oil. Stir-fry for 3 minutes. Add bean...
Easy Appetizers Recipe 1 tub soft cream cheese...1 bottle seafood cocktail sauce...1 can tiny cocktail...
Sweet & Sour Shrimp Puff Appetizers Combine cream cheese, soy sauce, garlic and ginger in small...
Seafood Pinwheels Place a scant teaspoon of seafood mixture in center of each won ton...
Pineapple & Shrimp_Appetizers 1 can (8 oz.) Dole Crushed Pineapple, drained...1 can (4 1/4 oz.) Pacific Shrimp...drained...1/4 cup reduced calorie mayonnaise...
Shrimp_Appetizers_Recipe 6 English muffins... 1/4 cup softened butter...1 (7 oz.) jar Kraft cheddar...
Shrimp Appetizer Wedges Chop shrimp into small pieces. Combine all ingredients except bread; mix well...
Firecracker Shrimp Cut each spring roll wrapper into thirds, making 3 long narrow strips...
Layered Shrimp Soften cream cheese and mix sour cream in until smooth. Spread mixture over a dinner plate ...
Cajun Shrimp Balls In a medium saucepan melt butter. Add parsley and scallions, cook for 1 minute...
Creamy Shrimp Nachos In medium bowl, stir together Queso Blanco or Monterey Jack cheese, mayonnaise, shrimp, onions...
Baked Bacon Crumb Shrimp Dip the raw shrimp into the butter and then roll them in the crushed bacon crackers...
Lemon Garlic Shrimp In mixing bowl, whisk together lemon zest, juice, garlic, parsley, salt, pepper, olive oil and capers...
More Easy Appetizer Recipes