Cheesy Shrimp Fondue Recipe
This is a delicious Cheesy Shrimp Fondue Recipe with Crab Meat. It is one of the many great Party Appetizer Recipes available on our website.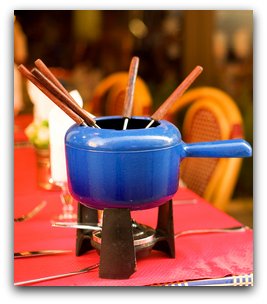 Ingredients:
1 (4-1/2 oz) can tiny Shrimp - drained
1 (7-1/2 oz) can Crab Meat - drained and flaked 2 (8 oz.) packages cream cheese
1 can condensed cream of Shrimp soup
1/2 tsp. salt
1/8 tsp. garlic powder
2 drops hot pepper sauce
1/2 tsp. Worcestershire sauce
1/2 tsp. dry mustard
3 Tbsp. sherry wine
1 cup sour cream
French bread - cubed into bite size pcs
Instructions:
Combine cream cheese, sour cream, and cream of Shrimp soup. Add salt, garlic powder, hot pepper sauce, Worcestershire sauce, mustard and sherry wine. Heat over low heat until smooth; stir occasionally. Add Shrimp and Crab Meat; heat thoroughly.
To serve, skewer cubes of French bread on fondue forks; dip into fondue.
You might also like these Party Appetizers:
Sweet & Sour Shrimp Puff Appetizers or
Shrimp Chicken Egg Roll Appetizers