Easy Baked Coconut Shrimp Recipe
No time to cook?
This recipe for Easy Baked Coconut Shrimp is a snap! With only four ingredients you can have it ready in no time.
So, grab your ingredients and whip up this coconut shrimp tonight. Your family will love it and you will too!
Ingredients:
24 raw shrimp-peeled,deveined,(uncooked)medium to x-large size (x-large shrimp can bebutterflied like shown in photo)
2 large eggs (beaten)
1 cup flour
1/2 cup shredded coconut
Directions:
Preheat oven to 425 degrees. 1. Beat the eggs in a small bowl.
2. Pour flour into another small bowl and place coconut into another small bowl.
3. Take a shrimp and dip it in the following order: flour, egg, flour again and finally coconut.
4. Place the shrimp on a nonstick baking sheet.
5. Repeat the process with remaining shrimp.
Place the baking sheet in the pre-heated oven and let the shrimp bake for 10 to 12 minutes, or until golden. Remove baking sheet from oven and transfer shrimp to a nice serving platter.
Makes 2 to 4 servings.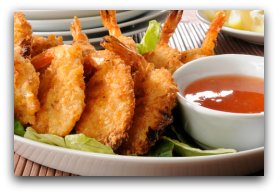 You might enjoy this Dipping Sauce recipe with your coconut shrimp:
1 Tablespoon lime juice
2 teaspoons finely chopped fresh jalapeno pepper
1/2 cup pineapple preserves
Combine lime juice, jalapeno pepper, and pineapple preserves in a small bowl. Mix well. Cover and refrigerate until ready to serve with your Coconut Shrimp. Enjoy!
For more delicious Sauce Recipes visit our Shrimp Dip Sauces Page here.
Return to Easy Shrimp Recipes Page from this Easy Baked Coconut Recipe Page
Return to Coconut Shrimp Recipes Page from this Easy Baked Coconut Shrimp Recipe Page
___________________________________________________
Cooking Shrimp Tips I How To Buy Shrimp I How To Butterfly Shrimp 
How To Clean and Devein Shrimp I Video Recipes I Shrimp Sauces