Hawaiian Grilled Coconut Shrimp Skewers
This is one of the tastiest grilled coconut shrimp recipes! I love the sweet marinated grilled shrimp flavor this has.
Serve these shrimp kabobs at your next Hawaiian party or picnic. Your guests will really enjoy them.
When cooking them just watch your grilling time. Shrimp cooks quickly especially when it doesn't have the shell on.
For all of our shrimp kabobs grilling tips, check out ourgrilled shrimp kabobs page here.
You might also want to take a look at the skewers and kabobs tools we recommend for cooking these. You can find them here.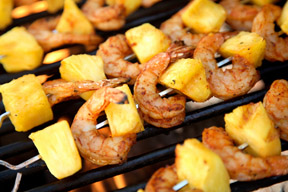 Ingredients:
Marinade1 can cup coconut milk (reserving 3 tablespoons for later)
¼ cup pineapple juice
1 tablespoon olive oil
1 teaspoon garlic, finely choppedShrimp24 jumbo shrimp - raw, shell removed (tails can be left on)
1/4 cup unsalted butter
3 tablespoons coconut milk
2 tablespoons sweet shredded coconut
1 teaspoon dark rum, optional
approx. 12 Fresh Pineapple cubesDirections:Mix marinade ingredients together and marinate shrimp for about 4-6 hours prior to cooking.After marinating shrimp, soften butter and mix with coconut milk,shredded coconut, and dark rum, if desired. Blend together well.Skewer shrimp onto skewers, adding a pineapple cube in between every other shrimp. Cook over open flame or under a hot broiler 3 to 4 minutes on each side. After turning once, brush with butter mixture. Continue cooking until done.Simply Delicious!
You might also enjoy these shrimp kabobs recipes:
Hawaiian Luau Shrimp 
Tropical Shrimp Kabobs
Visit Grilled Shrimp Recipes Page from this Grilled Coconut Shrimp recipe
For more products like this visit our Cooking Tools Page here