Copycat Outback
Coconut Shrimp Recipe
Try this Copycat Outback Coconut Shrimp Recipe and experience the taste of the Outback!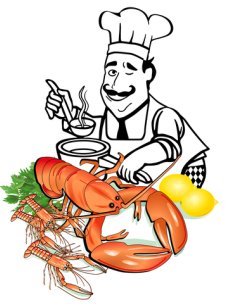 Ingredients:
1 1/2 pound large raw shrimp
1/2 cup all-purpose flour
1/2 cup cornstarch
1 tablespoon salt
1/2 tablespoon white pepper
2 tablespoons vegetable oil
1 cup ice water
oil for deep frying
2 cups short shredded coconut
1/2 cup orange marmalade
1/4 cup Grey Poupon country mustard
1/4 cup honey
4 drops Tabasco sauce

Peel, devein and wash shrimp. Dry well on paper towels. Set aside.
In a bowl, mix all dry ingredients for batter. Add 2 Tbsp oil and ice water. Stir to blend.
Heat oil to 350 in deep fryer or electric skillet.
Spread coconut on a flat pan or plate a little at a time, adding more as needed. Dip shrimp in batter, then roll in coconut.
Fry in hot oil until lightly browned, about 4 minutes. Bake at 300 5 minutes to finish cooking of the shrimp. Serve with sweet and sour sauce or the following sauce: Combine marmalade, Grey Poupon mustard, honey and Tabasco sauce to taste.
This is a copycat recipe for Outback Coconut Shrimp. It tastes as close to what they serve in their restaurants as you can get. The ingredients may vary by region so you may notice some slight variations, but hey, it's an awesome Coconut Shrimp recipe anyway. Try it tonight and see what you think!
You might also like this copycat recipe:
Red Lobster Shrimp Scampi Recipe
or My favorite cookbook: Top Secret Restaurant Recipes 2
This cookbook includes 6 copycat shrimp recipes from National Chains! Outback Steakhouse Grilled Shrimp on the Barbie, Margaritaville Crab, Shrimp and Mushroom Dip, Red Lobster Parrot Bay Coconut Shrimp, Red Lobster Bacon-Wrapped Stuffed Shrimp, TGI Fridays Sizzling Shrimp and P.F. Changs Lemon Pepper Shrimp. There are also a ton more incredible recipes. You have to check them out!
For all of our coconut shrimp recipes like this Outback Coconut Shrimp Recipe, click here
___________________________________________________

Cooking Shrimp Tips I How To Buy Shrimp I How To Butterfly Shrimp
How To Clean and Devein Shrimp I Video Recipes I Shrimp Sauces