How to make perfect shrimp scampi article and recipes
Are you looking for tips on how to make perfect shrimp scampi? Look no further! We have the best tips for you right here in this How to make perfect shrimp scampi article along with the best shrimp scampi recipes.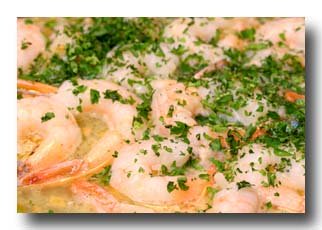 Making shrimp scampi is actually very easy. It is one of my favorite dishes because of it's simplicity (once you know the secrets I am about to share with you!).
Shrimp scampi is simply a combination of shrimp, garlic, butter and other optional ingredients. It may or may not contain pasta. Many people believe that shrimp scampi would be difficult to prepare because it appears to be such a fancy or elegant dish. It is actually fairly simple to prepare as I mentioned before.
Tips for Making Perfect Shrimp Scampi
It all starts with the shrimp! You can not prepare a perfect scampi if you don't first start with perfect shrimp!
What is perfect shrimp? Perfect shrimp is has a nice translucent color, no smell and still has the peel on it.
Here are tips on how to buy the best shrimp for your recipes.
1. Buy Frozen Shrimp: Unless you are in a hurry to use your shrimp we suggest always buying shrimp that is frozen. Almost all shrimp available has been previously frozen. The grocery store or seafood market is thawing it for you to offer convenience. Shrimp can be thawed at home in less than 30 minutes so if you don't need it thawed right now stick to the frozen bags. The reason is that when you are thawing it yourself you know how long it has been thawed giving you more control over the best quality.
2. Avoid buying shrimp that has already been peeled: Because most shrimp is previously frozen as mentioned above you want to buy shrimp with the shell on. The shell helps to protect the meat from freezer burn. It may still have the vein in it. This is ok. The vein can be left in or easily be removed if you prefer. So whether you are buying it frozen or thawed, buy shrimp with the shell on.
3.Color and Appearance: When you are shopping for shrimp watch for Color and Appearance: Look for a nice translucent color. Avoid shrimp that has any black spots or rings. These are not harmful, it just means the shrimp is getting older and is starting to break down. Avoid buying shrimp that looks yellow. It may mean it's been soaked in a solution to remove the black spots or rings.
4. Smell: If buying thawed shrimp never buy shrimp that smells strong or "shrimpy" -my term for fishy smelling. It should hardly omit an odor at all. It may have a slight saltwater smell but nothing else.
If you are really interested in buying fresh shrimp make sure it follows steps 2 - 4 above and also that it is firm to the touch (not mushy). Fresh shrimp will work and I have used it myself when I couldn't find the right bag of frozen shrimp available.
More tips:
Use the right ingredients! You will want to use butter and not margarine or a butter substitute. Butter is just better! And select fresh garlic and onions.
When melting your butter...melt it slowly on a lower heat. Don't try to rush this or you will burn the butter!
Always make sure the shrimp you are using is perfectly deveined. Shrimp deveining tools are available to make this a lot easier. You won't want any of the vein left in the shrimp because it will make the shrimp taste gritty.
When using white wine in the recipe, go for a little more expensive brand not the cheapest you can find. You can also drink this with your meal so treat yourself! I prefer to use a Sauvignon Blanc.
Prepare all of your ingredients ahead of time. Meaning, chop your onions and set aside. Crush or chop your garlic and set aside, etc... the recipes cook very quickly so you don't want to have to stop in the middle to gather any ingredients.
And last but not least...practice, practice, practice. If you are not so happy with your recipe the first time, experiment and try again. Practice makes perfect (at least that's what my mother always told me!)
Here are a few basic shrimp scampi recipes to get you started:
Cajun Shrimp Scampi
1 lb. medium shrimp- peeled, deveined and thawed
3/4 cup butter
1/2 cup onion - chopped
3-4 garlic cloves - minced
1 tbsp. fresh parsley - chopped
1/4 cup dry white wine
2 tbsp. lemon juice
2 tbsp. cajun seasoning (we use McCormicks Bayou Cajun Seasoning)
Preheat pan. Add butter until melted using a low-medium heat. Add onions, garlic and cajun seasoning. Cook approx. 2 minutes until onions are tender. Add shrimp and cook approx. 3 - 4 minutes, stirring occasionally. Stir in wine and lemon juice. Cook another 2-3 minutes. Transfer shrimp to a platter and pour the liquid over shrimp, sprinkle with fresh parsley and serve. _____________________________________________
Shrimp Scampi Pasta Recipe
8 ounces uncooked spaghetti
1/2 cup butter
2 cups dry white wine
2 pounds large raw shrimp, peeled and deveined
1 teaspoon dried basil
Bring a large pot of lightly salted water to a boil. Add pasta and cook for 8 to 10 minutes or until al dente; drain.
In a large saucepan, melt butter and add white wine. Over medium heat, add shrimp and basil. Cook until pink all over; about 3 to 5 minutes. Serve over pasta. _____________________________________________
Easy Shrimp Scampi Recipe
12 large Raw Shrimp
2 large cloves garlic
4 Tbsp. salad oil
Parsley
1/2 tsp. salt
1 Tbsp. oregano
1/4 lb. butter
Grated Parmesan cheese
Heat oil and butter. Add crushed garlic, salt, oregano (more or less, according to taste). Add Shrimp.
Cook approximately 5 minutes or until done, shrimp will turn opaque and will have none of their original color left. Top with parsley and Parmesan cheese. Delicious served over spaghetti.
This article is brought to you by Beth Brawn, creator of https://www.free-shrimp-recipes.com You can visit her website for many more delicious Shrimp Scampi recipes along with many other shrimp cooking tips, cooking videos and more great recipes. Copyright- You may freely republish this article, provided the text, author credit, the active links and this copyright notice remain in place.
___________________________________________________

Cooking Shrimp Tips I How To Buy Shrimp I How To Butterfly Shrimp
How To Clean and Devein Shrimp I Video Recipes I Shrimp Sauces

Click here for more articles like this How To Make Perfect Shrimp Scampi article