Shrimp Scampi Pasta with Kale Recipe
This recipe for Shrimp Scampi Pasta with Kale is delicious and nutritious. It's a great way to get your veggies!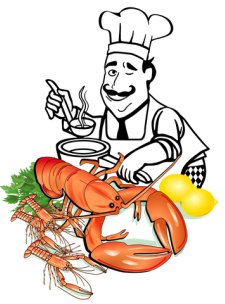 Ingredients:
1 pound linguini
1 pound fresh kale, washed well, stemmed and coarsely chopped
4 tablespoons olive oil and 3 additional tablespoons for coating the pasta
4 tablespoons butter
3 tablespoons finely chopped garlic
20 raw jumbo shrimp, peeled and deveined
Juice of 1 lemon
3 tablespoons chopped parsley

Bring a large pot of water to a boil. When the water has come to a boil add the linguini and give it a stir. Bring it back to a boil and add the kale, stirring occasionally.
When the pasta has reached the al dente stage, about 8-9 minutes, drain it and the kale in a colander. Place the pasta and kale into a large bowl and toss with 3 tablespoons of extra virgin olive oil.
While the pasta is cooking, heat a large sauté pan and add the 4 tablespoons olive oil and the butter. When the butter has melted, add the garlic and sauté over medium heat for 2-3 minutes taking care not to brown—or burn—the garlic. Add the shrimp and sauté for about 5 minutes or until shrimp are cooked and opaque. Add the lemon juice and chopped parsley. Remove from heat and season with salt and pepper.
Divide the linguini into 4 pasta bowls and top with 5 shrimp each. Pour the garlic and oil from the sauté pan over the shrimp and pasta. Serve with shredded Parmesan and warm crusty bread. Serves 4.
Visitors who liked this Shrimp Scampi Pasta recipe also enjoyed:
Shrimp Scampi Primavera and
Shrimp Scampi Pasta Salad
Return to Shrimp Scampi recipes from Shrimp Scampi Pasta with Kale

Return to Home from this Shrimp Scampi recipe
___________________________________________________

Cooking Shrimp Tips I How To Buy Shrimp I How To Butterfly Shrimp
How To Clean and Devein Shrimp I Video Recipes I Shrimp Sauces