Sweet Spicy Shrimp Skewers Recipe recipe for grilled Shrimp
Daringly different Sweet Spicy Shrimp Skewers recipe. These shrimp kabobs will fire up your taste buds!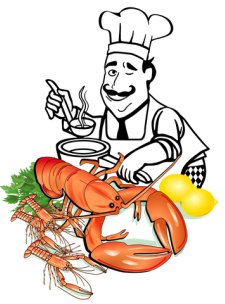 Ingredients:
16 lg. shrimp, peeled and deveined
1 lg. Mango, peeled, and cut into twelve 1" chunks
1 red pepper, cut into 12 slices
1 lime, cut into 8 pieces, quartered then halved
8 scallions or 1 sm. red onion, cut into pieces
1 tbsp. olive oil
salt, to taste
Freshly-ground black pepper, to taste
JALAPENO BUTTER:
4 oz. unsalted butter, softened
1/2 tsp. ground cumin
1 tbsp. chopped cilantro
1/2 tbsp. finely-chopped jalapeno
Preheat grill or broiler. In a bowl toss the shrimp with salt and pepper. Thread the shrimp and vegetables onto the skewers. Each skewer has 4 shrimp, 2 limes, 2 onions, 3 peppers, and 3 mango pieces. Brush the vegetables thoroughly with olive oil, sprinkle with salt and pepper. Place on the grill and cook for 4 minutes on one side.
Meanwhile prepare the jalapeno butter. In a bowl combine all ingredients.
Then using a pastry brush, generously apply the butter to all sides of the kabobs, and then flip over and cook another 4 minutes.
Serving Size: 4
Learn how to make Perfect Grilled Shrimp Kabobs everytime!
If you are looking for some good skewers, these stainless steel ones work pretty good. You can get a dozen of them for around $12 and the nice thing is they are re-useable and won't burn up like bamboo.
Click here for more Grilled Shrimp Kabobs recipes like this Sweet Spicy Shrimp Skewers recipe
___________________________________________________

Cooking Shrimp Tips I How To Buy Shrimp I How To Butterfly Shrimp
How To Clean and Devein Shrimp I Video Recipes I Shrimp Sauces