BBQ Bacon Shrimp Skewers
This BBQ Bacon Shrimp Skewers recipe is great for dinner and they are so easy and fast. This is one of the simplest grilled shrimp recipes you can find.
We recommend using either Jack Daniels BBQ sauce for this recipe or my favorite, Original Sweet Baby Ray's Barbecue Sauce. It is so good!
I love to have them with Corn-on-the-Cob. To me barbeque shrimp and corn-on-the-cob are perfect compliments to each other.
Feature Recipe
Ingredients:
1 lb medium raw shrimp 
1 lb bacon
Your favorite BBQ sauce
If using wooden skewers be sure to soak them in warm water for about 1 hour. (this prevents them from burning during cooking,) I prefer to useCuisinarts 6-pc. Skewer Rack. It comes with 5 Skewers.
Cut pound of bacon in half. Cook until it is limp.
Peel and wash shrimp. Drain. Wrap one shrimp at a time with bacon and slide onto skewer. When skewer is full brush with barbecue sauce.
Cook on barbecue grill until bacon is done.
Place your finished Shrimp Skewers on a large oval platter and serve. Don't forget the extra napkins!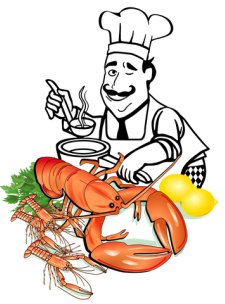 You might also enjoy these shrimp recipes:
Hawaiian Grilled Coconut Shrimp 
Orange BBQ Shrimp Kabobs
Here is the perfect side dish for this recipe:
Grilled Corn On The Cob
Ingredients:
6 ears corn
6 tablespoons butter, softened
salt and pepper to taste
Directions:
1.Preheat an outdoor grill for high heat and lightly oil grate.
2.Peel back corn husks and remove silk. Place 1 tablespoon butter, salt and pepper on each piece of corn. Close husks.
3.Wrap each ear of corn tightly in aluminum foil. Place on the prepared grill. Cook approximately 30 minutes, turning occasionally, until corn is tender.
Return to Grilled Shrimp Recipes from this BBQ Bacon Shrimp Skewers Recipe
Return to Shrimp Recipes home from this Shrimp Kabobs Recipe