Easy Shrimp Casserole Recipe
Want an easy but delicious meal tonight? With this Easy Shrimp Casserole Recipe you can have dinner ready in a jiffy and your family will love it!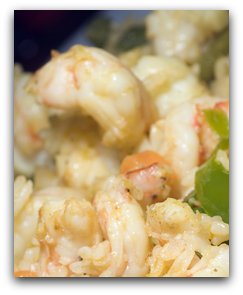 Ingredients:
1 cup uncooked regular rice
1 medium size green pepper, finely chopped
1 medium onion, finely chopped
1 (8 oz.) can sliced mushrooms, drained
1/2 cup butter
1 (10 3/4 oz.) can cream of Shrimp soup, undiluted
1 tsp. seasoning salt
1/2 tsp. pepper
1 lb. Shrimp, cooked, peeled & deveined
Instructions:
1. Cook rice according to package directions and set aside.
2. Melt butter in large skillet. Saute green pepper, onion and mushrooms in butter.
3. Add cooked rice, soup, salt and pepper; simmer 20-25 minutes, stirring frequently. Add Shrimp and simmer 3-5 minutes.
4. Pour into casserole dish and serve.
You might also enjoy these free shrimp recipes:
Easy Shrimp Casserole
Baked Almond Shrimp