Shrimp In Garlic Sauce Recipe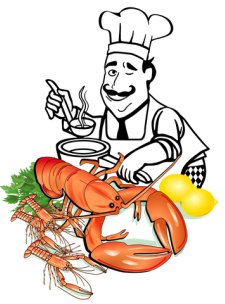 D-E-L-I-C-I-O-U-S! No other way to describe this Shrimp in Garlic Sauce Recipe. Try it for yourself.
Ingredients:
1 1/2 lbs. raw shrimp -shelled and deveined
6 tbsp. flour
8 tbsp. real butter
1/4 c. olive oil
3 cloves garlic
1/4 c. chopped fresh parsley
8 oz. clam juice
1/4 c. sherry
Juice of 1 lemon

Directions:
Preheat broiler.
Melt 4 tablespoons butter and oil in 10x13 pan. Dip shrimp into the flour. Next, place shrimp in the butter and oil in pan. Broil for 8 minutes until pink, turn once.
For sauce:
Mash garlic, heat with sherry and clam juice - don't boil.
Mix 2 tablespoons flour with 4 tablespoons melted butter. Slowly stir in lemon juice. Add this to sherry and clam juice mixture. Stir until creamy. Add parsley. Pour mixture over shrimp, stir. Broil 2-3 minutes until bubbly.
Servings = 4
Other visitors who like this recipe also liked:
The Best Garlic Shrimp Pasta and
Grilled Garlic Shrimp Skewers
Here is a nice side dish recipe to serve with your Shrimp In Garlic sauce.

Oven Roasted Vegetables

Ingredients:

2 red peppers
1 green bell pepper
2 onions
2 zucchini
8 oz. box mushrooms
6 new potatoes, scrubbed
1 tsp. salt
2 cloves garlic, crushed or pressed
coarsely ground pepper
1/2 tsp. oregano
1/2 tbsp. basil
1/2 tsp rosemary

Wash and dry vegetables.

Cube vegetables into large bite-size pieces. Halve mushrooms, if large. Potatoes can be parboiled (or put in first). Arrange vegetables in a baking dish or roasting pan in a single layer.

Crush the garlic. Stir into oil.

Drizzle the vegetables with olive oil and toss to coat well.

Sprinkle with pepper, oregano, basil and rosemary.

Roast in 400° degree oven; reduce heat if vegetables are browning too quickly before they are done. Vegetables may not cook at the same rate. As some of the vegetables cook, they may be removed while the others are left to finish cooking. Add more olive oil if the vegetables absorb the oil and become dry during the cooking (or use olive oil spray).
Return from Shrimp In Garlic Sauce Recipe to Garlic Shrimp Recipes Main Page
___________________________________________________

Cooking Shrimp Tips I How To Buy Shrimp I How To Butterfly Shrimp
How To Clean and Devein Shrimp I Video Recipes I Shrimp Sauces