Garlic Shrimp Recipes, Garlic Shrimp Pasta Recipes, Shrimp in Garlic Sauce
If you are looking for a tasty, tempt-your-taste-buds, Garlic Shrimp Recipe then you've come to the right place!
Your taste buds will hardly be able to stand it when you start to simmer the garlic on the stove. Neither will your family!
Who doesn't love Garlic and/or Shrimp? Everyone, Right? Well, I would think so but I may be a little biased :) considering Shrimp is my favorite food and garlic is the next best thing!
Did you know there are benefits to eating garlic?For starters, garlic is practically considered a natural "wonder drug". Now, I am no doctor so don't take my word for it. I am simply passing along years of information about this beneficial "wonder food." Garlic is said to help lower cholesterol, lower blood pressure, prevent cold and flu, act as a natural antibiotic and more.
But, back to the shrimp, did you know shrimp is also good for your cholesterol? Check out this article on "Cholesterol In Shrimp Are Good For You." Shrimp can also act as a fat burning food and has many other health benefits.
So, are you ready to work on that cholesterol? Check out these recipes. Do it for your health!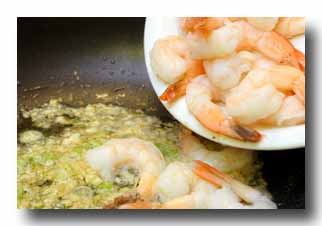 The Diet Solution. Stop Dieting...Start Eating...and Start Living!
Click Here!
Garlic Lime Shrimp
Shrimp In Garlic Sauce
Lemon Garlic Shrimp
Garlic Shrimp Scampi with white wine
Garlic Shrimp Scampi
The Best Garlic Shrimp Pasta
Garlic Shrimp Scampi Pasta
Garlic Shrimp Linguine
Garlic Shrimp Pasta with Shallots and Wine
Grilled Garlic Shrimp Skewers
Marinated Shrimp on The Grill
Garlic Shrimp Stir Fry
Garlic Rum Shrimp
Fiery Garlic Shrimp
Return to Free Shrimp Recipes home page from Garlic Shrimp Recipes Page
___________________________________________________
Cooking Shrimp Tips I How To Buy Shrimp I How To Butterfly Shrimp 
How To Clean and Devein Shrimp I Video Recipes I Shrimp Sauces